A properly fenced swimming pool is a safe, well-kept swimming pool. You've already invested time and money into making your pool and water features an integral part of your backyard landscape. Your investment should be protected by a fence that enhances the existing structures in your yard and keeps friends and family safe when your pool is not in use.
Most Methuen Massachusetts homeowners already have a privacy fence installed on their property, and it's important to integrate your pool fence with this structure. The problem is that the characteristics of a high quality pool fence are not the same as a privacy fence. The long term exposure to chemicals and water can take a toll on many traditional fence materials, so striking a balance between the existing aesthetic and the safety/longevity of materials can be challenging.
The good news is that we at Hulme Fence have solutions to fit any existing design and still adhere to local pool codes in Methuen. Check out these seven inspirational ideas for fences you'll be proud to put up around your swimming pool.
Vinyl Pool Fence
The most flexible option for design and construction will always be a high quality vinyl fence. Manufacturers produce vinyl fences specifically formulated for poolside use in colors and designs to suit any existing aesthetic. More importantly, vinyl lasts longer and provides greater security without costing a fortune.
Iron Bar Perimeter Fence
Providing both a classic look and superior longevity, iron bar perimeter fences are a popular choice among Methuen homeowners. Many homes in the area already feature some form of wrought iron fence around the property, so adding a simple iron bar perimeter pool fence blends seamlessly with existing privacy and security fences.
Moreover, iron-bars also complement existing fence designs, allowing them a higher degree of versatility than other materials choices. When used as a pool fence, the materials need to be coated and rated for exposure to chemicals and water, but a professional installer will ensure these requirements are met. The primary drawback to using iron bar perimeter fences is the cost is somewhat prohibitive.
Aluminum Pool Fence
For the Methuen homeowner seeking an iron bar style perimeter pool fence that doesn't cost a small fortune, aluminum pool fencing is an excellent option. It possesses all the characteristics of an iron bar fence without the weight, hefty price tag and need for specialized coatings and treatment. There are also more finish options for aluminum fences since they are naturally corrosion resistant and can be painted. If you love the look of iron bar fences but don't love the cost, definitely consider installing an aluminum pool fence.
Glass Pool Fence
An ultra-modern look, glass pool fences allow an unobstructed view of the pool from any angle without compromising safety or security. Panels are generally mounted with minimalist metal brackets to maintain the illusion of invisibility, and many homeowners like to accent their glass pool fence with lighting to create an otherworldly effect at night. While this type of pool fence material is pretty much impervious to anything that would be in your swimming pool, it does come at a significantly higher cost. You get a significantly higher "wow factor", but you are definitely paying for it.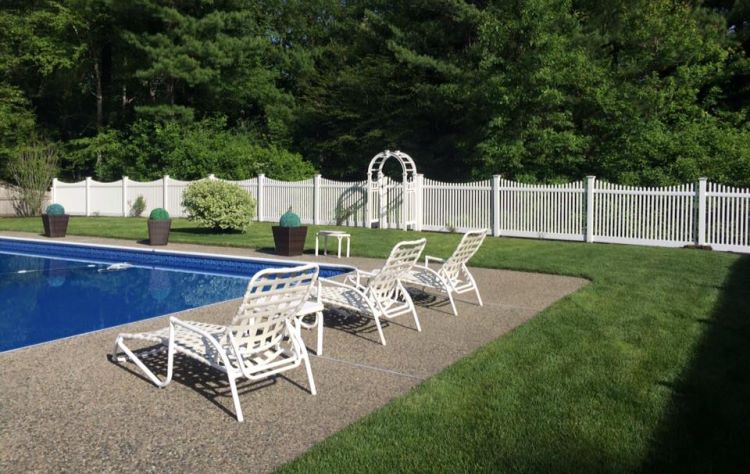 Looking to install a pool fence? Contact Hulme Fence in Methuen, Massachusetts. We are your local experts for pool fences, decorative fences, security fences and privacy fences. Call or visit our website for more information about how we can help you install the perfect pool fence for your home.