Choosing the best fence for your dog will require you to take a few factors into consideration. There are four main types of popular fencing, including vinyl fencing, wood fencing, aluminum fencing and chain-link fencing. Each type of fencing has its own benefits and liabilities that need to be weighed against each other to determine the best option for you. Here are the best fences for your dog.
Vinyl Fencing
Vinyl fencing is a great option for homeowners who want a traditional aesthetic, without having to continuously maintain and repair the fence. Vinyl is a much stronger material than wood, and it lasts much longer. You can easily clean vinyl fencing with common household cleaners, which will significantly reduce the time and money you will need to put into it. Another benefit of vinyl fencing is that it will minimize your impact on the environment. Other types of fencing need to be replaced every decade or repainted to cover up any rust or corrosion. Vinyl fencing can maintain its integrity for decades, and it can be recycled.
Dogs tend to scratch at fencing when they get excited or curious, which can cause serious damage to certain types of fencing materials. Vinyl fencing is resistant to damage from scratching, which makes it an excellent option for dog owners. While all types of fencing will keep your dog inside the area, some types will allow dogs to see beyond the fence, which can cause them to bark if they see a person or another animal. Your dog will not be able to see through most vinyl options, which helps keep down excessive barking.

Wood Fencing
Wood fencing is an excellent option for homeowners who want a natural look that provides a sufficient amount of privacy. There are a wide variety of different types of wood that can be used as fencing. therefore, you will be able to have a high level of customization. A negative aspect of wood fencing is that it needs to be carefully maintained to prevent warping, cracking or fading.
Wood fencing is a good option for dog owners because it will keep them safely within your yard. They will also not be able to see the areas surrounding the fence with most types of wood fencing, which will help prevent them from barking excessively. Dogs are capable of causing significant damage to wood fencing if they scratch at it. If you have a smaller or calmer breed of dog that will not scratch at the fence, wood is a goodchoice. However, it is best to choose another option if you have a large or more excitable breed of dog.
Aluminum Fencing
Aluminum fencing is a great option for homeowners who want a strong and secure fence without sacrificing beauty. There are a wide variety of customizable options such as styles, colors, grades and heights. Aluminum will not rust or rot away, so you will have to commit little time to maintenance and upkeep. Dirt and grass clipping can start to build up, but they can be easily remedied with a garden hose.

Aluminum fencing is an excellent choice for dog owners because the strong material is resistant to damage from scratching. It will keep them securely behind the fence, but they will have a clear view of the surrounding area with most types of aluminum fencing. So, your dog may bark more often than with other types of fencing.
Chain-Link Fencing
Chain-link is one of the most popular types of fencing for both homeowners and commercial projects. Chain-link fencing is designed to last a long time and require little maintenance. The color for the vinyl coating is customizable, as is the choice between a bottom rail or a tension wire. This type of fencing is easy to install and is typically much cheaper than other types of fencing. So, it is a great option for homeowners who are on a tight budget.
Chain-link fencing is an effective way to keep your dog within the limits of your yard. An issue with chain-link fencing is that your dog will be able to see beyond the fence, which can encourage barking.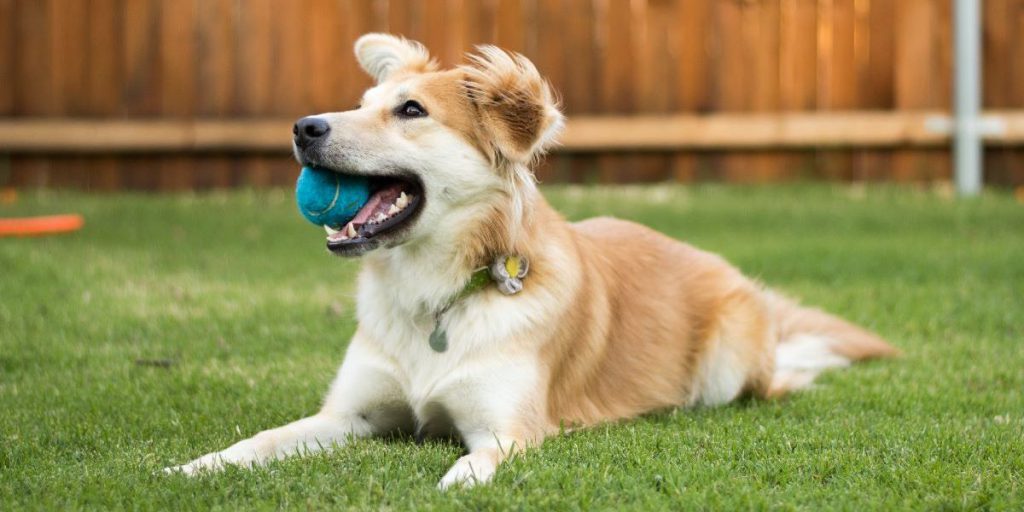 Vinyl, wood, aluminum and chain-link are all viable types of fencing for dog owners. Wood privacy fencing is great for preventing your dog from barking, but it can be damaged by scratching over time. Chain-link is an excellent choice for homeowners who are on a budget, but it will encourage barking. Your dog will not be able to damage aluminum fencing through scratching, but they will still be able to see through it. Overall, Vinyl fencing is the best fencing option for dog owners without putting budget into consideration. The combination of low maintenance, durability and lack of vision of the surrounding areas make it the perfect solution for dog owners.

Contact Hulme Fence
If you live in New Hampshire or Massachusetts and are interested in installing a fence for your dog, contact Hulme Fence. Our premier fencing products and installation services will fit your residential or commercial fencing needs. You can choose to install the fence yourself or have it installed by one of fencing experts.
Give us a call at (978) 258-3915 or visit our website at hulmefence.com/ to get in touch with us and learn more about our services.