A wood fence is a classic and universally familiar way to add a beautiful, natural border to your home or property, so if you're thinking about installing or replacing one, you'll be in good company. A well-built wood fence can offer security, privacy, and a welcoming curb appeal. Everyone's preferences and, of course, budget can be accommodated by one of our wood fence styles. Continue reading to learn more about some of the most popular styles of wood fences installed by an expert Methuen, Massachusetts residential fencing company like the pros at Hulme Fence.
Wood Styles for Your Massachusetts Residential Fence
Most wood fences have the same basic components but their design and style can vary widely. As one of the few top-rated Massachusetts residential fencing companies, we can customize the style of our wood fences to suit your specific needs. Whether you want a classic, welcoming picket fence, a breezy, "good neighbor" fence, or a sturdy Massachusetts privacy fence, we've got you covered. We also have options for different finishing cuts, lattice toppers,  and different posts and gates to further customize the look of each fence. We provide a wide range of designs and styles to ensure that your fence reflects the exact aesthetic you're looking for.
Shadowbox Wood Fence
This fence creates a distinct "shadow" effect by alternating pickets on both sides with a gap in between that allows air to flow through the pickets, which is beneficial in high winds. When viewed from the front, the gaps make it appear solid. However, from an angle, you can see through to the other side, making it a semi-private option. Each side looks identical, making it the ideal "good neighbor" fence.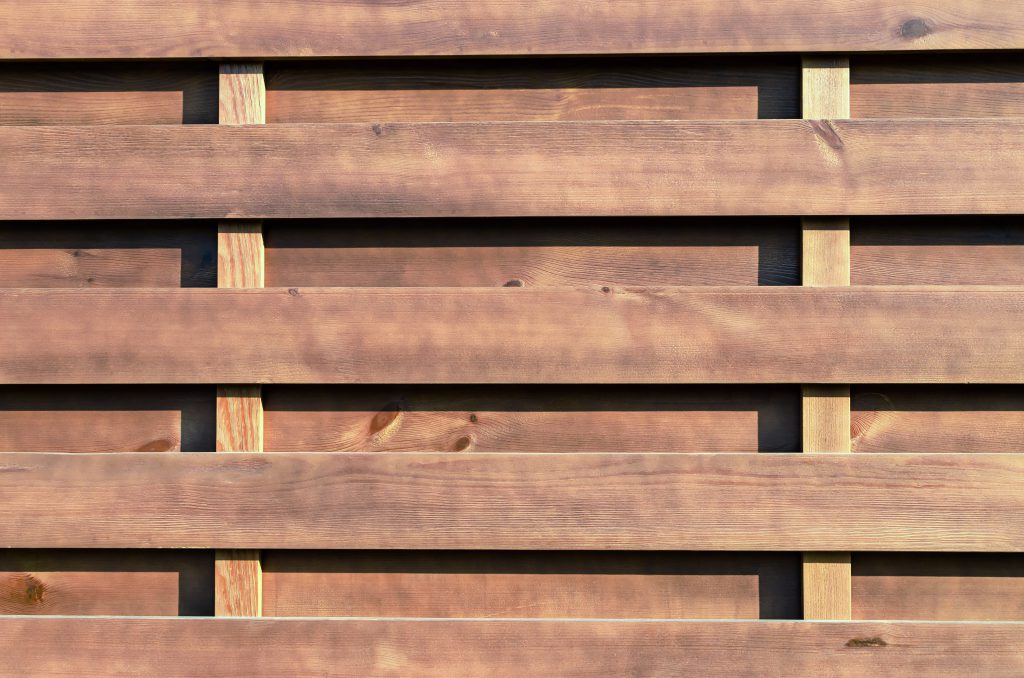 ---
Horizontal Wood Fences
This is one of the most current and popular looks for wood fencing today! The modern aesthetic of a horizontal fence will add an eye-catching personality to your property and you'll be the envy of the neighborhood! They can provide full or partial privacy depending on your needs and looks great with finishing rails or lattice tops.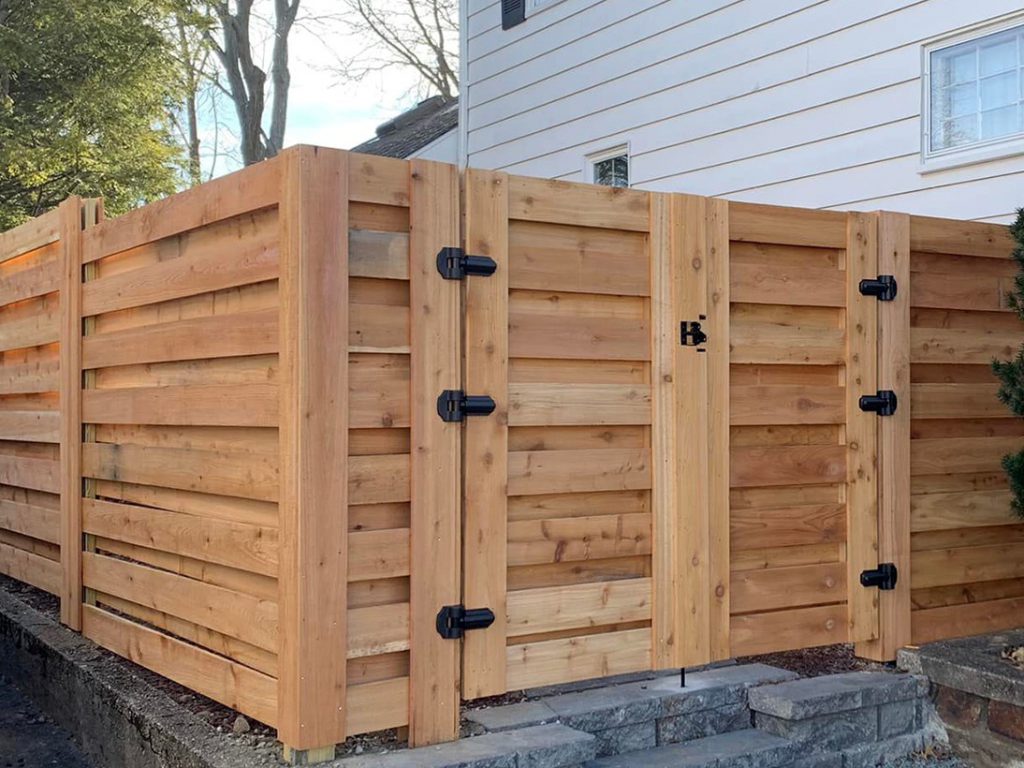 ---
Stockade Wood Fence
Another common Massachusetts privacy fence type, stockade fencing, butts the edge of each picket against the next to create a solid Massachusetts privacy fence. It is also sometimes called side-by-side fencing. Just like other styles of fences, stockade fencing can be installed horizontally or vertically with no overlapping.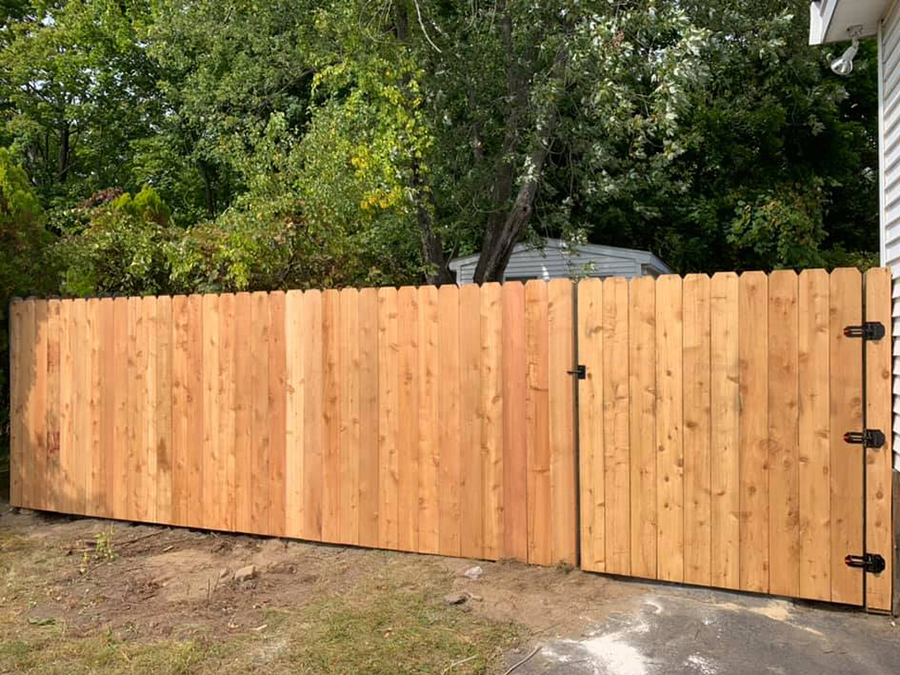 ---
Picket Fences
The nostalgic look of a picket fence is still popular today and will give your property a beautiful, decorative treatment while also providing a distinctive border around your yard. A crisp, white picket fence can give houses a friendly, family-orientated look that welcomes visitors to your home.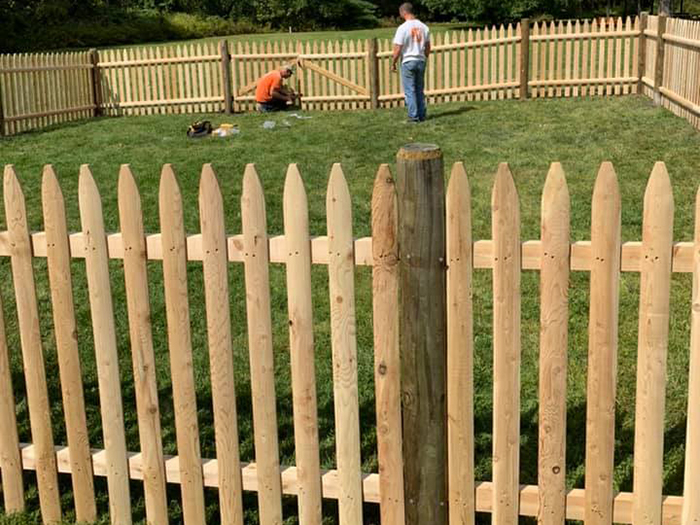 We Only Use Quality Materials
We use pressure-treated pine posts as they provide insect and rot resistance that will also help it to outlast natural, untreated posts, and because it tends to be denser than untreated wood products, it also has increased strength. As an experienced and reputable Massachusetts residential fence company, we make sure to use the highest quality, longest-lasting products available so that our customers get the most from their investment.
Ready to Work With the Best Fence Pros in Massachusetts?
The fence experts at Hulme Fence want to create the perfect Massachusetts residential fence to suit your needs and style. Let us show you why we are a favorite, top-rated Massachusetts residential fencing company! Our friendly, knowledgeable fence professionals are ready to help answer any questions you may have. Call us at (978) 258-3915 or Contact Us online for prompt, courteous service!