The Cambium Vinyl Fence series by ActiveYards is a unique solution for people that are looking for the benefits of vinyl fencing while also enjoying the look and texture of a natural wood finish.  
Vinyl Fencing With Wood Texture
The Cambium series vinyl fencing boasts a beautiful wood grain texture and finish that you can see and feel as you run your hand across the surface of the fence. This innovative texture produces the same shadow effects as a traditional wood fence, further adding to its realistic look.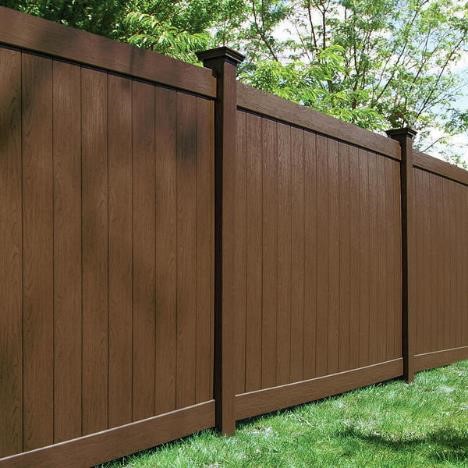 Color Options
Cambium vinyl fencing is available in several nature-inspired colors, so you can choose the hue that will best suit your property and your individual style, including: Redwood, Saddlewood, and Birchwood. Most Cambium colors and styles are considered special order, so be sure to allow plenty of time for us to get your fence ordered.
Lifetime Warranty
Unlike real wood, quality vinyl fencing will never rot, fade, warp, crack, or mildew and is virtually maintenance-free. With the ActiveYards lifetime warranty, you can enjoy outdoor living worry-free for all the seasons ahead.
ActiveYards Ingenuities
Cambium technology by ActiveYards is just ONE of their exclusive technologies. Learn more about each of the ActiveYards Ingenuities for vinyl and aluminum fences:
GlideLock® for Vinyl Fences
Patented design ensures that each picket locks tightly and easily into place without any gaps.
SolarGuard® for Vinyl Fences
SolarGuard is infused as the fence is created to preserve its color and finish.
StayStraight® for Vinyl Fences
Prevents substantial long-term bowing or sagging common with other brands of vinyl fencing.
Corigin® for Aluminum Fences
Pickets and rails connect from the inside for a stronger, smarter design.
Authorized Dealer of ActiveYards Vinyl Fencing 
Hulme fence is an authorized dealer of ActiveYards vinyl fencing in Massachusetts and New Hampshire. Come visit our showroom in Methuen where we're happy to show you innovative, long-lasting fences including the Cambium series of vinyl by ActiveYards. If you have questions, our fence professionals are here to help you at (978)258-3915 or contact us online for fast, friendly service!